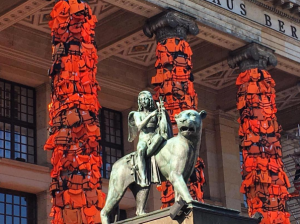 From an article by Lauren Said-Moorhouse for CNN Style:
"Chinese artist Ai Weiwei has covered a Berlin landmark with thousands of refugee life jackets for his latest installation.
The striking display is the activist's latest attempt to highlight the scale of migrants taking to the seas every day.
Ai's team began wrapping 14,000 discarded life vests around the pillars of the city's Konzerthaus venue overnight.
The bright orange vests arrived in Germany from Lesbos — a Greek island that has become a gateway for refugees into Europe. Authorities from Lesbos said they had provided Ai with the now-unwanted jackets."
Visit Ai Weiwei's Instagram (@aiww) for more photos.