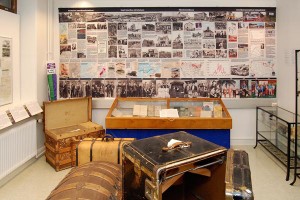 America and Australia Rooms
Institute of Migration, Finland
Permanent Collection
"America Room: What made people to move across the Atlantic Ocean? What was it like to travel a hundred years ago? What was life like in the new home country? What is Finnish American identity today? Completely renewed exhibition about Finns in America shows off the treasures of the Institute's archive. Learn about the hardships and joys of the emigrant life and see original documents, items and photographs left behind.
Australia Room: The Australia Room consists of items of Finnish Australian emigrant Leo Fabritius, who liked to catch snakes, play the violin and build ships inside bottles. The room also introduces Herman Dietrich Spöring from Turku, who sailed in Oceania with Captain James Cook during the years between 1768 to 1771, being one of the first Europeans there."
For full descriptions and more information, visit the Institute of Migration.