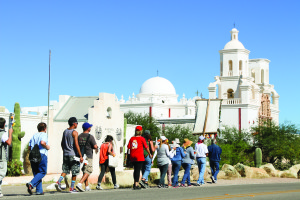 "There are 2,771 crosses, so 2,771 human remains since 2000," says Cristen Vernon Coalición de Derechos Humanos, Missing Migrant Hotline coordinator for Derechos Humanos. That number, she says, only accounts for a fraction of those who have died along the entire U.S.-Mexico border. More than 6,330 people have died along the southwest border with Mexico since 1998, according to U.S. Customs and Border Protection.
Coalición de Derechos Humanos began fielding calls in the late '90s, and has since developed a missing migrant hotline for families who seek help locating missing loved ones who have attempted to cross the desert.
In November 2013, they started monitoring the hotline 24 hours a day, mobilizing rapid responses to emergency calls or providing families with information."
Read more on the Arizona Sonora News blog.