Lotte's mother: How did you know it was me?
Nejat Aksu: You are the saddest person here.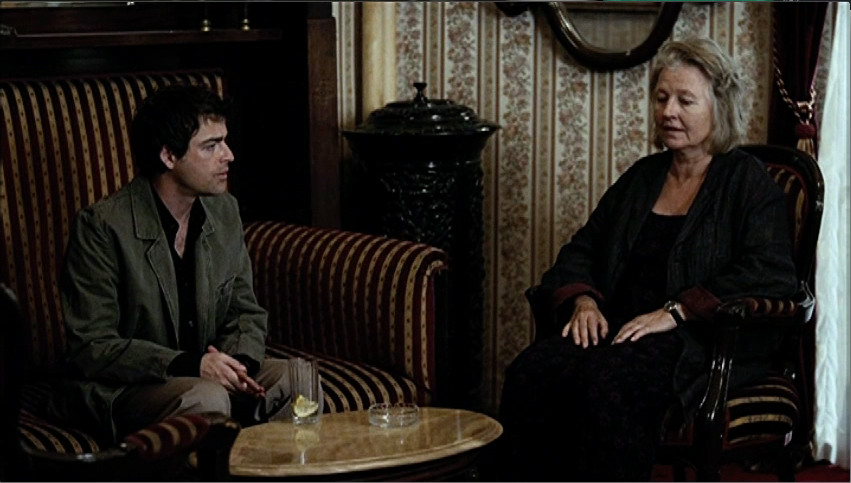 In his film, The Edge of Heaven (Auf der anderen Seite, 2008), Turkish-German filmmaker, Fatih Akin foregrounds pain, loss, and the pathos of brief encounters through three intertwined narratives that touch each other, one might say, at "the edges." The three episodes (Yeter's Death; Lotte's Death; and The Edge of Heaven) are laid out side by side, as one might do with pieces of cloth to be stitched together, with one edge slightly overlapping the one next to it. The film's "episodic" structure underscores at once the peripheral nature of social interactions in migrant and transnational spaces, as well as the inevitability of human contact, albeit via grief and suffering. How the one connects with the other may be the fundamental question of our time. Akin's film reminds us that a commitment to mobility and abstract affiliations in a networked age must rub up against an awareness of those immediately around us and the efforts one must make in the here and now to see that "other side" (the meaning of the film's German title). Not that The Edge of Heaven is a meditation on technological mediations of presence; rather, its visual and thematic currency is visceral and anguished in a direct sort of way. Death, that most inscrutable of occurrences, serves to stitch events and characters' lives together. So the anguish we see on screen, and feel as we watch, has many layers. But Akin's tour de force is that he brings us to a reckoning of the world we live in (marked by bigotry, anger, murder, deportation, incarceration) without collapsing into negativity and rage. Rather, he focuses on what connects us as humans and the need to open ourselves up to the pain of the other. And sometimes it takes death to provide sustenance to the living.
The cinema of migration is a genre in the making, and its parameters are still uncertain. Elements from the thriller, violent crime, melodrama, science fiction, and social realism genres all find their space in its capacious folds. Migrant journeys, especially of the illegal variety, form a major thematic and narrative arc within this output, as these lend themselves to dramatic situations and visually-compelling scenarios. Migrant characters evoke pity as they struggle with poverty, exploitation, and the ever-present fear of being discovered and returned to their homeland. Issues of identity and belonging are also prominent in migration films, documentary and feature. The film scholar Hamid Naficy has written about an "accented cinema" in which exiled filmmakers develop a special cinematic language that speaks to their own unique situation. More appropriate, though, for contemporary filmmakers addressing the issue of migration in either direct or oblique ways may be the notion of "double occupancy" advanced by film historian and scholar Thomas Elsaesser. This idea recognizes the always already dual emotional and psychological space that migrants inhabit. In the case of Fatih Akin, however, one gets the sense that even the awareness of double occupancy might be too limiting, and that filmmakers are better off exploring the "redemptive" possibilities in the contingent, the unfamiliar, even the bizarre.
The story, when stated in summary, can seem overwrought and extravagant: a young man of Turkish origin named Nejat Aksu is raised by his widower father and the two live in Hamburg where Nejat has a job at the university teaching German literature. The older Aksu invites a prostitute, Yeter Ozturk, to live with him to relieve his loneliness but ends up killing her in a jealous rage. Yeter has a daughter, Ayten, who has escaped to Hamburg from Istanbul because of her involvement with a radical group. Here she meets a German student, Lotte, and the two fall in love. But Ayten is brought back to Istanbul to stand trial, and Lotte follows to be close to her and secure her release. She is, however, a victim of senseless violence and is gunned down by a young assailant in the street. Before her sudden end, Lotte has met and rented a room from Nejat who is now the owner of a German bookstore in the heart of Istanbul. Lotte's mother, Susanne Staub, comes to Istanbul to find the reason for her daughter's death, meeting Nejat in a hotel lobby where they exchange the lines quoted above in the epigraph. What follows is the gradual transcendence of the main characters' limited understandings of self and other.
These connections become objects of overt symbolism in the film. As Yeter's coffin makes its way, on the airport tarmac, from Hamburg to Istanbul, Lotte's coffin is shown going in the opposite direction, going "home" from Istanbul to Hamburg. In another scene, as Nejat's father appears at a train window to buy a ticket following his deportation order from Germany, we catch a glimpse of Lotte's mother Susanne who is also leaving for Istanbul, following the death of her daughter there. Repetitions abound, as though all life is circular. When we first see Nejat teaching in a classroom, the camera pans to a student collapsed on her desk, fast asleep. Towards the end of the film, the same scene is repeated, only this time we recognize the girl as Ayten and know why she is asleep in this unlikely place. And in Istanbul, Nejat and Lotte's lives briefly intersect, thus making it possible for her mother to seek him out and know him as well. 
The movement through space, which is an essential aspect of migration, cannot fail to raise questions of cinematic belonging for Akin himself. He has been known to identify as "a classical filmmaker" rather than an ethnically-marked or immigrant one. Such self-positioning must be placed against the backdrop of a long history of debate about what constitutes German cinema within Germany itself, and while this is not the place to get into that historical question, it is doubtful that Akin is unaware of it. However, what strikes me as significant is that The Edge of Heaven moves this old-new debate along (now also taking the form of defining "Europe") from its association with physical borders to an association with people as individuals capable of change and growth in a way that nation-spaces are not. In other words, physical borders between Germany and Turkey are crossed so often as to become meaningless, and the focus shifts to the characters as they become dis-integrated from their countries of origin. "Culture" is no longer what we inherit but what we open ourselves to. The family is no longer the source of one's cultural belonging. In each of the three narrative strands, family bonds are sharply broken: Nejat rejects his father because of his crime; Lotte leaves her mother to go after the woman she loves, despite Susanne's remonstrances; Yeter and Ayten, mother and daughter, never meet in the film. In each case, the characters who remain alive  have to regain or reconstitute familial ties through anguish and loss.
Akin's film is a symphony about death, life, and resurrection but not in a religious sense; it has no use for Christianity or Islam. Rather, by blurring the distinctions between 'host' and 'guest', 'migrant' and 'native', he presents these positions as malleable and mutually illuminating.
-by Sumita Chakravarty