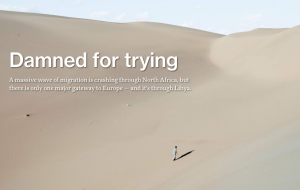 The largest flow of modern African migration funnels through a single country — Libya.

Coming from the south, migrants flee the vestiges of wars that have left entire nations in ruin. From the east, they escape a life of indefinite military servitude and violent conflict. From the west, they evade destitution and governments that arbitrarily jail whomever they please.

Some arrive by choice, others by force. But Libya is the purgatory where most migrants prepare to face the deadliest stretch of the Mediterranean Sea.

Click here to see the full project.