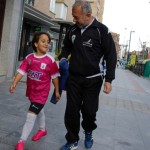 "Mohsen's story went viral after he was filmed being tripped up by a camerawoman as he fled police near the Hungarian border with Serbia last September. He was carrying his youngest son Zaid, then 7, in his arms at the time, and the two fell sprawling on the ground.
Footage of the incident helped bring him to the attention of a soccer training school in Getafe on the outskirts of Madrid, which found him work as a liaison officer. Zaid, now a year older, as well as 17-year-old Mohammed, who was in Germany at the time, live in the neighborhood with their father.
Mohsen's wife and two other children remain in Mersin, southern Turkey. The family left the war-torn Syrian town of Deir el-Zor together around four years ago.
"I see my future here," says Mohsen, whose eyes light up when talking, in broken English, about the local junior team he sometimes helps train, Villaverde-Boetticher."