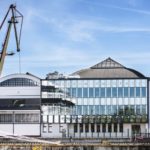 "The history of departures from the Polish lands is hundreds of years old. People traveled to different parts of the world for sustenance, in search of freedom, or for a different life. After Poland regained its independence, this situation remained unchanged. The journey was tackled on foot, by rail, aboard ships or – later – airplanes. After Poland joined the European Union, emigration became the experience of a generation of millions of young Poles. Today, almost everyone knows someone who chose emigration.
Gdynia is witnessing the birth of the first museum in the country dedicated to the history of Polish emigration. From the initiative of the city's authorities, the historical edifice of the Marine Station – which witnessed the departures of Polish ocean liners for decades – is now seeing the birth of an institution which will recount the migrations and fates of Poles in the world in close connection to the modernity. The history of emigration is being written every day. Its multiple dimensions will be presented through our permanent exhibition.
The mission of the Emigration Museum in Poland is to recount the fates of millions of both anonymous and famous people – whose names emerge in the context of great achievements in science, sports, business, and the arts. It is the ambition of this institution to make them known to Poles at home, but it is also to encourage our compatriots living at home and abroad to get to know each other. Through educational and cultural projects, the museum hopes to become a place of encounter and discussion."
Visit the Museum's website here.